Lakoda Rayne
Information
Names
Cari Fletcher
Hayley Orrantia
Paige Elizabeth Ogle
Dani Knights
Age(s)
20-25
Category
Groups
Mentor
Paula Abdul
Elimination Information
Place
9th Place
Lakoda Rayne
 were an American all-female country-pop group came in the competition as solo artists but were put together after bootcamp. Their mentor was Paula Abdul. At judges' house, they sang the country version of "Born This Way" by Lady Gaga. They were in the bottom two along with
The Stereo Hogzz
on November 10 but were spared elimination after
LA Reid
, Nicole Scherzinger and
Simon Cowell
voted to save them. They were eliminated on the November 23 results show after being in the bottom 3 with Marcus Canty and LeRoy Bell and receiving the fewest public votes, and therefore came in 9th place.
The group disbanded in 2014
 Hayley Orrantia (born February 21, 1994; age 22) (2011-2014)
 Cari Fletcher (born March 19, 1994; age 22) (2011-2014)
 Dani Knights (born November 28, 1988; age 28) (2011-2014)
 Paige Elizabeth Ogle (born March 17, 1993; age 23) (2011-2012)
X Factor Performances
Edit
| Performance | Theme | Song | Result |
| --- | --- | --- | --- |
| Judges' Houses | Solo | "Born This Way" | Through to Live Shows |
| Week 1 | Judge's Choice | "Come On Eileen" | Saved by Paula Abdul |
| Week 2 | Judge's Choice | "Landslide" | Safe |
| Week 3 | Songs from Movies | "Somebody Like You" | Bottom Two |
| Final Showdown (Week 3) | N/A | "No Air" | Saved by Judge's Vote |
| Week 4 | Rock | "Your Love"/"Go Your Own Way" | Safe |
| Week 5 | Giving Thanks | "You Belong with Me" | Eliminated by Public Vote |
Post X Factor
Edit
After their elimination, the girls kept their fans up-to-date via Twitter and started their own YouTube channel where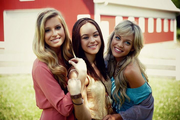 they covered songs like "Call Me Maybe" by Carly Rae Jepsen and "Where Have You Been" by Rihanna.
The group- minus Paige Ogle, who left to attend college- released their first single, "Emergency Brake", on September 18, 2012. Member Dani Knights co-wrote the song with Jaden Michaels and Jordan Baum. The song's music video premired on YouTube on September 16, 2012. It has racked up a little over 81,000 views.
Disbandment
Edit
After the release of "Emergency Brake", the group went on what seemed to be a long hiatus. Cari Fletcher became a student at New York University while Hayley Orrantia decided to try acting and got cast in an ABC series called The Goldbergs. Dani Knights focused on music and her family.
In June 2014, Cari announced that the group has disbanded.
Discography
Edit
Singles:
Paige didn't want be in a group at first, but then she thought about it and decided to stay in the group.
Paige left the group in 2012 to go to college and focus on her studies.
Member Hayley Orrantia is making her acting debut by starring in the ABC comedy series The Goldbergs.